Supreme accommodation, up-close encounters with wildlife, and world-class hospitality in the multi-cultural and biodiverse nation that is South Africa. This is a safari destination that has it all.
We custom-make journeys across South Africa, from the private reserves of the Greater Kruger Park to the tropical coastline of Kwazulu Natal and the exquisite Kalahari countryside of the north. Our privately guided photographic workshops take place in some of the country's most celebrated wildlife territories, including the historical home of luxury safaris, the Sabi Sand.
---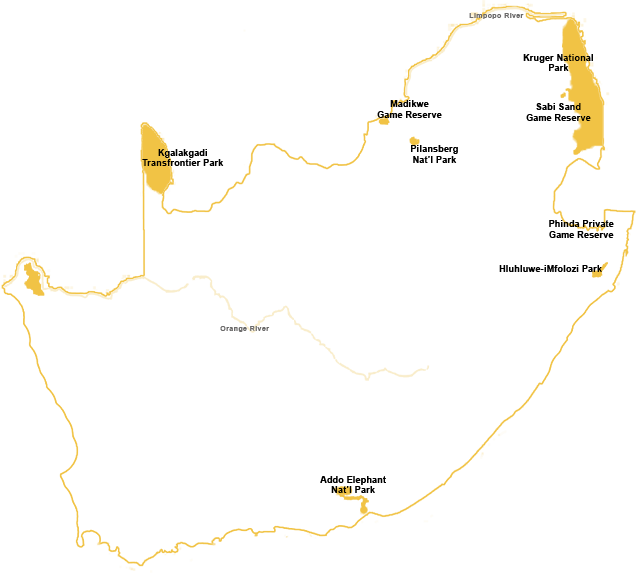 ---
Our Premade Safari Packages are one of the easiest way to travel – a hassle-free pre-designed itinerary exploring the highlights of a destination without having to navigate the logistics and individual booking processes. Through our expertly created packages, we give our guests the opportunity to sit back, relax, and trust that our experience of the destination and knowledge of the product has resulted in a tried and tested trip.
why book a premade safari package?
---
The only way you'll find a multi-day safari itinerary packaged up and ready to go on our website is if we have tried and tested it and know it is good enough for you. These packages are priced and timed so that all you need to do is pick which one works best for your requirements and trust that the rest is exactly as it should be. If you're just looking for a getaway, fuss-free travel, and memories to last a lifetime – talk to us about our pre-selected journeys. Here's why you should book a trip like this:
---
Booking a packaged journey is time efficient for you
---
Our packages showcase the best
 bits of a safari destination.
---
Create a unique
itinerary for any
special occasion
, romance, photography or exploring.
---
---
Price on request
The Royal Portfolio showcases the very best luxury South African travel experiences. We look forward to welcoming you.
---
---
Kambaku River Lodge
Subheadline space
---
I was lucky enough to spend some time at Kambaku River Lodge on the Crocodile River and go on a photographic safari with Lance Van de Vyver of Panthera photo safaris as our guide and teacher. On that safari I learned so much from Lance about photographing Wildlife and also editing which resulted in me taking some of my best images. I would totally recommend to anyone, no matter your knowledge of photography, to try and go on one of these safaris.

Kambaku river lodge is an amazing lodge and the owners and staff are of the highest quality. Kambaku combined with Panthera Photo Safaris and Lance is a dream team.  My husband who is not a photographer decided to accompany me and he enjoyed the safaris and lodge as much as I did!
Tswalu Kalahari
Subheadline space
---
We met Lance and Kirstin at Tswalu Kalahari in July 2016. Lance was our guide and his enthusiasm on the truck was contagious. Also, as a photographer he knew exactly where to park for us to get great photos and went the extra mile to get us memorable, rare sightings (2 pangolin, aardvark and aardwolf on 1 drive!!). His knowledge of the wildlife and the area was outstanding too. Since 2016, we've become good friends and have even had him join us at &Beyond Ngala Tented Camp for an afternoon. He and Kirstin are a down to earth, hardworking, fun, and honest couple who love wildlife and giving people the greatest experience possible. We look forward to spending time with them again in the bush very soon.
Londolozi Private Reserve
Subheadline space
---
One of the best photo guides I have had the privilege to travel with! Lance always goes the extra mile to make sure his clients get the absolute best photographic opportunity. When I first met him I was a beginner, but now I am confident around my equipment. At no time on any trip did I feel intimidated by him or the other photographers, which I have felt with other companies. Unlike other "guides" who I have been with, he never positions himself in the best position. Many times I have been with him he has had no view of the animal, or is positioned behind a bush so that his clients get the best shot! His knowledge of wildlife behaviour and photography are amazing and I feel I learn something new every time I am with him. Kirstin is a fantastic host, always willing to chat and ensure the guests are happy when at camp. She is never far to top up a drink and check in on you, making your time in the bush very relaxing. 5 out of 5, I would recommend to anyone!
Tswalu, Motswari
Kalahari & Timbavati
---
It is easy to tell that Lance is a good photographer, but he is also an excellent teacher. Before we met Lance, the only F stops we knew were on the subway.

Lance has a beautiful way of taking whatever photographic knowledge you have and transforming you into an expert. He is a master at explaining everything you wanted to know about your camera (besides just how to turn it on) and how to seamlessly access the functions on your camera to get the right shot. From working in dim light to trying to capture a moving subject, Lance provides all of his tips and tricks to getting an award winning shot.

He is kind, patient, very funny, and a delight to work with. Whatever level of photography you're at, have Lance help you transition from taking nice photos to breath-taking photos.

Hope to see you next year.
Mashatu game reserve
Subheadline space
---
have been on photographic safaris with Lance Van de Vyver since 2018 when my husband, Andrew and I visited Djuma for the first time. Since then we have been to Djuma every year as well as a spectacular trip to Mashatu in the green season in Botswana. We thoroughly enjoyed our trips, as Lance, with his extensive guiding experience, combined with that of the lodge guides, found us incredible sightings. We have had the most amazing sightings; from leopards, to beautiful sundowner spots, special elephant encounters and exciting wild dog chases! As a photographer it was important to Lance that he got us into the best possible positions to get great shots. Lance's knowledge of animal behaviour meant that he often anticipated what might happen in the sighting and he would tell us when to be ready to take the shot. Advice on camera settings in the sighting such as exposure, shutter speed, aperture were invaluable and it was incredibly rewarding to come back from drive and download photos that were better than any I had ever taken. In 2018 I was relatively new to wildlife photography, using a DSLR properly and I had never used any editing software before. I learnt a lot from the editing workshops held after drive and left each safari with new skills. There is always so much to learn. I have seen my photography improve over the years through what I have learnt on these safaris. Apart from the amazing sightings and great photographic tuition, Andrew and I enjoyed Lance's enthusiasm, his sense of humour and passion for what he does. On all our trips there was much laughter and fun had. We both enjoy the way Lance and Kirstin manage to make us feel relaxed and comfortable in the group in a short space of time. This makes for an enjoyable safari experience with others newly met. Kirstin hosted us on all the Djuma safaris with amazing attention to detail, ensuring we were well looked after and made to feel at home. On arrival back after drive we were always met with her infectious smile and a friendly chat. I can highly recommend going on a photographic safari with Lance and Kirsten, which is why Andrew and I keep coming back! Looking forward to Djuma 2021!
Djuma Game Reserve
Subheadline space
---
Djuma is one of the best locations to photograph big cats. A photographic safari in comfortable accommodation with friendly hosts Lance and Kirsten is highly recommended. An ever smiling Kirsten takes care of all your hospitality needs and magnificent meals. It can be seen that careful thought is put into every detail. Lance is an extremely skilled photographic guide whose enthusiasm is addictive. He has a wealth of knowledge in nature, photography and post processing of images. He happily shares this knowledge of camera settings for various situations, photographic techniques and post processing, no matter your skill level. What is most remarkable about a safari with Lance and Kirsten is the relaxed atmosphere and the feeling that you are all part of the "family". All your needs are taken care of, from kind and friendly hospitality to the stunning environment, continual learning and sharing of photographic and post processing skills.